Wholesale of Iran refined salt in 500 g packing, purity over 99 %, iodine 40 to 60 ppm depend on buyer request, export refined salt to Georgia, Armenia, Iraq, Oman.
Wholesale sale of refined salt 500 g, purchase of refined salt from the factory, 500 g of salt in a package of 20 pieces, 1 kg of salt in a package of 10 pieces.
The difference between refined and industrial salt
For many years, the consumption of sea and mountain salt has been advertised in an unrefined and natural way, and some people, unfortunately, being influenced by false scientific news, unfortunately buy these salts instead of refined salt. Therefore, it is necessary to provide people with accurate and scientific information about the difference between industrial salt and refined salt in order to witness mistakes that cause irreparable damage; Do not be and help promote community health.
Salt extracted from mountains, rock salt mines and seas or lakes has many impurities such as heavy elements such as cadmium, mercury, lead, arsenic and other impurities such as sand, gravel and mud; Hygienic salt factories take the salt stones to the factory after harvesting and wash and purify the salt through special processes; After complete purification, iodine, an important and vital element, is added to the salt so that the salt is finally ready for consumption.
In the production of industrial salt, heavy elements are not removed and no elements are added to the salt. The presence of impurities in salt causes many problems such as kidney disease, poisoning and cancer.
Various methods of producing refined salt
The refined salt can be produced in various ways, including the hydromyl method and the recrystallization method. Among the methods, recrystallization is the best method for producing edible and hygienic salt. In the recrystallization method, rock salt is crushed using industrial mills; A saturated solution is then prepared with ground salts.
After the water is saturated with salt, the manufacturer proceeds to remove impurities such as heavy metals and magnesium sulfate or gypsum, which is often done by filtering the solution. A solution of pure salts is then prepared which, by evaporating the solution, forms the salt salt molecules in the crystallizer. The crystals are separated by centrifugation and the necessary elements such as iodine are added to the salt and enter the packing stage.
Iran refined salt Factory
The refined salt factory must produce edible salt according to the standard set by the Ministry of Health. The Ministry of Health and the Food and Drug Administration monitor the salt production processes by controlling the salt factories and giving them instructions.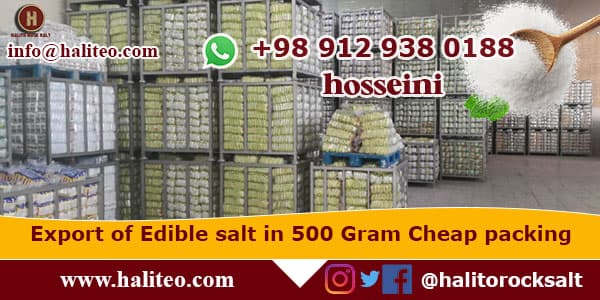 Because iodized salt prevents diseases related to the thyroid gland and plays a very important role in physical, mental and neurological growth and development; Factories must adhere to standards and produce healthy table salt according to certain protocols.
Source: Halito rock salt comapny
https://irsalt.com/wp-content/uploads/2021/12/Export-of-Edible-salt-in-500-Gram-Cheap-packing-1.jpg
300
600
admin
https://irsalt.com/wp-content/uploads/2020/06/eng-logo-512-min-300x300-1.png
admin
2022-02-27 10:58:24
2021-12-21 11:07:57
Wholesale of Iran refined salt in 500 g packing