Decor rock salt factory in Iran, persian salt lamp, unique salt lamp made in halito rock salt factory.
Decorative rock salt factory, rock salt lamps in very various designs, all kinds of verse rock salt wholesale at very reasonable prices, salt stones without lamps are super cheap.
The major price of decorative salt stones depends on its quality, so that the more this product is produced from better quality raw materials, the higher the price, and if it is produced from substandard raw materials, lower quality products are produced and lower prices. Allocates to itself. There are various types of rock salt factory that buyers buy this product according to their needs. Buyers go to the factories to buy different types of rock salt so that they can buy the product they need.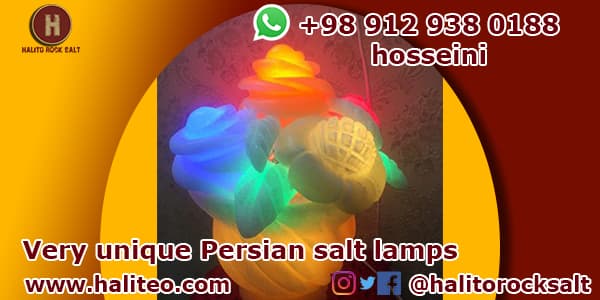 Persian salt lamp factory
High consumer demand has led to a boom in the market for buying and selling decorative salt stones. Purchasing decorative rock salt is done in person and in person. In the first method, you can do your shopping by visiting stores, and in the second method, it is possible by calling or visiting store sites. You make your purchase as soon as possible.
To compete with other agencies, shopping malls offer products that are customer-friendly and have gained an important position in the domestic market. These centers offer a variety of products to the market that have a great impact on customer choice.
Supply decor rock salt
Decorative salt is sold in all markets of the country. Sales centers do their sales in a special way to attract customers, so that they provide quality products to customers at reasonable prices. Extraordinary sales are sometimes done through internet sites.
Due to the high consumer market and sales, sales in the country are booming. The most reputable sales agencies play an important role in meeting the needs of the markets and can create major and profitable transactions. Selling online is cost-effective because it saves time and money.
Internet decorative rock salt rates are very convenient and low cost. Because online sales have many benefits; And because it eliminates intermediaries, it is much easier to buy and sell and the price is much lower for buyers. Saving time and travel costs is the most important advantage of this method, which makes consumers very welcome.
Source: Halito rock salt company
https://irsalt.com/wp-content/uploads/2021/02/43-1.jpg
300
600
admin
https://irsalt.com/wp-content/uploads/2020/06/eng-logo-512-min-300x300-1.png
admin
2021-03-01 09:46:07
2021-02-03 09:49:06
Decor rock salt factory in Iran