White rock salt wholesaler in Iran, export white rock salt to Iraq, Turkey and Russia, Iran rock salt manufacturer and supplier, edible rock salt, industrial rock salt in cheap price.
Major seller of export white salt rock, edible white salt rock with 99.5% purity, white rock salt for water purification and resin reduction, animal white rock salt.
White salt rock has a special place in our country's market and therefore they can be purchased in the best condition. There is a lot of variety in these stones and customers can prepare them as they see fit. The sale of rock salt mine in Kerman is regulated according to the needs of buyers. We often see wholesale sales of products, however, other buyers have no problem meeting their needs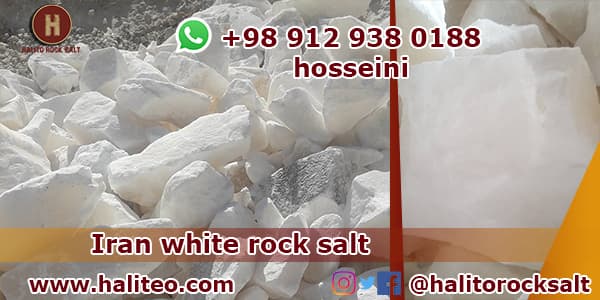 What are the healing properties of white salt rock?
Among the various spices used in food, we want to talk about salt, which is made from rock salt. When shopping or in a world of diversity, we are faced with different colors.
In the following, we will talk about export rock salt, which attracts many buyers with its unique taste. It should be noted that these products have a high price and are mostly used for treatment. The main mine is the stones in Garmsar and Semnan, which we even see exported to foreign countries.
Despite these mines, we are facing major products that meet the needs of most customers. Due to the fact that these products have many healing properties and are useful for reducing stress, the number of customers is increasing day by day, which is a reason for major products.
purchase of white rock salt
Flat salt mine with major activities plays an important role in meeting the needs of buyers, and yet customers will no longer have problems buying. With the increase of people's advertisements about the properties of rock salt in 1400, the sales of these products have increased, which in itself affects the activity of producers.
Buying from a stone quarry in 1400 is often online, and customers get the best kind of stones without spending their time shopping in urban markets. Online shopping is cheaper than face-to-face shopping, which is why most people do it this way.
Sale of Garmsar mineral salt in foreign markets can affect the economic cycle of our country. Selling in this way makes it easier for the manufacturer to reach its goal of profitability and increase its activities in this regard. With major deals, we know that prices are reduced by half, and reputable buyers can choose them at a cheaper price and place their order.
Source: Halito rock salt company
https://irsalt.com/wp-content/uploads/2021/08/95.jpg
300
600
admin
https://irsalt.com/wp-content/uploads/2020/06/eng-logo-512-min-300x300-1.png
admin
2021-09-02 14:25:38
2021-08-05 14:28:08
White rock salt wholesaler in Iran