Iran salt block manufacturer and supplier, rock salt factory in iran, 20*40*5 cm, 20*30*5 cm, 10*20*5 cm in carton, minimum order is 5000 qty.
Direct distribution of molded rock salt, the largest producer of cut rock salt, rock salt soap, salt brick, flat rock salt for cooking, molded rock salt for dialysis machine and hardener.
Salt rocks in the form of molds are the most important type of products that are produced for different purposes with excellent conditions and have a high supply and direct distribution. Distribution of molded rock salt with normal conditions and the best rates is done mainly and directly by their most experienced producers, and they are available and used by the buyers at the cheapest buying and selling rates of the day.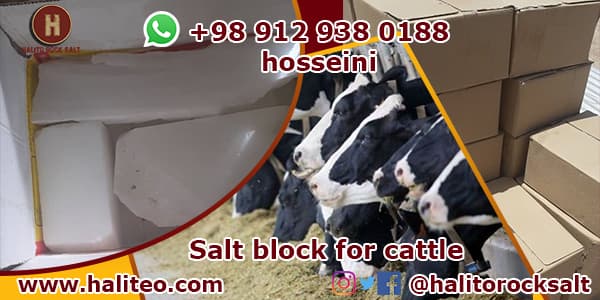 How is salt block produced?
All kinds of salt rocks in the form of molds with excellent conditions and in a completely pure form have a high production and supply. These types of goods are produced hygienically in salt rock mines or production centers in different molds and in certain sizes and have a high distribution in suitable packages.
How they are produced using special machines for the production of this product is very important and in these machines in a special way and in specific molds with different sizes to produce these salts and an extremely high supply with the most excellent They have daily buying and selling rates.
These goods can be procured quickly from their production centers or many modern reputable sales centers and at low costs in various formats according to their type and application and based on their needs quickly and With high satisfaction, he used these molded rock salts.
Salt block manufacturer
Rock salt in the form of molds today, according to their characteristics and functions, have a special sale and purchase, and the highest amount of their purchase is in bulk. The purchase of molded rock salt is mainly done directly and with the cheapest buying and selling rates of the day, and with these prices, they are provided to buyers quickly.
Molded rock salts have the best and cheapest daily buying and selling rates in bulk purchases, and online with this method of purchase, the lowest costs can be spent and the first-class type of molded rock salts in the form of Bought in bulk.
Different types of these goods can be purchased from different centers and production companies in bulk and at the cheapest rates, and they can be used at any time according to their need for the product in a completely acceptable way.
Source: Halito rock salt company
https://irsalt.com/wp-content/uploads/2021/05/90-1.jpg
300
600
admin
https://irsalt.com/wp-content/uploads/2020/06/eng-logo-512-min-300x300-1.png
admin
2021-06-15 09:43:08
2021-05-17 09:49:27
Iran salt block manufacturer and supplier